Hifi ROSE RS201E HiFi Network Media Player
RM 10,000.00
Description
Modernized Simplification
Premium Design
Harmonized Design by upper class frame
consist of aluminum body with corner, volume knob,
power button and wide view touch screen makes
its whole shape be exceptional .
HiFi Audio & UHD Video
Multimedia Playback
Network Connection among USB. Micro SD. SSD.
PC and NAS supports latest Audio format. MPEG.
H.264. H.265. VP9
High Quality Sound
Studio Mastering Quality Sound Playback
PCM32bit/384khz, Native DSD256- 32bit/11.2MHz
supporting Latest High Resolution PCM32bit-384kHz
and Native DSD32bit-11.2MHz provide full and dynamic
sound through Reference 32bit High Performance DAC.High Speed Driver Variation Technique and
Embedded Pure Path Ultra HD Power Amp. Provide
Super Audio Quality of Ultra Low Distortion and
stable sound quality covering whole range.Harmonization between vacuum amp. and reference grade amp
amp. of PreAmp in 122dB SNR(-132dB THD+N)supports Studio Mastering Quality Sound.RS201E includes MQA technology
which enables you to play back MQA audio files and streams,
delivering the sound of the original master recording.
Visit mqa.co.uk for more information.
All-in connectivity
Various Device Connection
support DLNA, Airplay Service in Network
and A/V files stored Smartphone, Tablet, NAS etc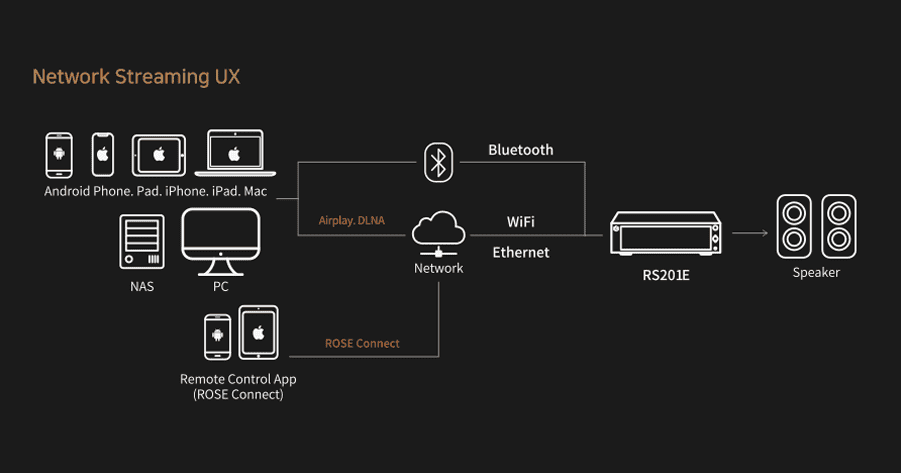 RS201E provides the most latest Interface and Device
taking on market trend and customer needs as Line In
PreAmp Out. Digital(optical) I/O. Speaker Out.
Headphone Out. HDMI compatible with
High Quality DAC. AMP. Speaker. TV etc.
ROSE App.
ROSE Connect
RS201E is controlled by ROSE Connect Mobile App.
* Music. Video. Radio. ROSETube. ROSEPodcast. Power. Volume. Remocon
System Expansion for Audiophiles
Various Source Interface
Media Source as USB. Micro SD. SSD Input and
Network Drive Connection through Network.
Line In as Line/Optical In and Connection CD. DVD.
Blu ray Player. TV through Optical In.