Description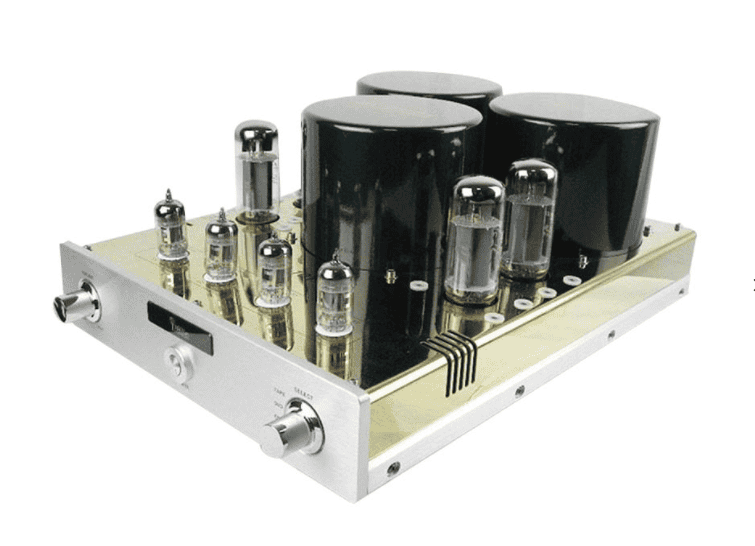 Features:
Here is a new Yaqin MC-10T integrated stereo amplifier. These are excellent sounding amplifiers with huge transformers.
This amp puts out some amazing sound and has more than enough power at 52 watts per side. It uses 4 EL-34's and 12AT7's. Quite heavy at over 50lbs.
The output transformer adopts and imports the silicon steel sheet of audio frequency (0.35mm ) and high-quality enameled wire of high strength and winds the craft of making specially.
Utilizes the audiophile capacitors and high quality metal precision resistors dedicated for audio frequency;Applies special potentiometer as volume controller with low noise, and durable;Beautiful aluminum and steel heavy duty chassis, panel and bezels.
Specification:
Input Power:110V-240V Available
Output Power:≥52watts x 2 RMS "8 ohm" Class A
Valve/Tubes:EL34B x4 ; 12AX7 x2; 12AU7 x2;
Frequency:20Hz—60KHz "±1.5dB 10W "
SNR: ≥85dB "A Weight"
Load impedance:8ohm or 4ohm
Signal Inputs Level:≤300mv
Input Jack:4 groups
Input Consumption:250w
Weight:22 kg
Size Dimension: D : 479mm ,W : 310mm ,H : 180mm
Colour:Gold Body & Dark Green Power Supply
特征:
这是新的雅琴MC-10T集成立体声放大器。这些是具有大型变压器的出色测深放大器。
该放大器发出令人惊叹的声音,并且每侧52瓦时的功率都绰绰有余。它使用4个EL-34和12AT7。重量超过50磅,相当重。
输出变压器采用进口音频(0.35mm)的硅钢片和高强度的优质漆包线并特制工艺。
利用发烧电容和高品质的金属精密音频电阻器;将专用电位计用作音量控制器,具有低噪音,耐用的特点;美观的铝和钢重型底盘,面板和挡板。
规格:
输入功率:110V-240V可用
输出功率:≥52wattsx 2 RMS" 8 ohm" A级
阀/管:EL34B x4; 12AX7 x2; 12AU7 x2;
频率:20Hz — 60KHz"±1.5dB 10W"
信噪比:≥85dB" A重量"
负载阻抗:8ohm或4ohm
信号输入电平:≤300mv
输入插孔:4组
输入功率:250w
重量:22公斤
尺寸尺寸:D:479mm,W:310mm,H:180mm
颜色:金体和深绿色电源